STACY PASCHOAL
Guest Blogger
Timothy's McVeigh's mugshot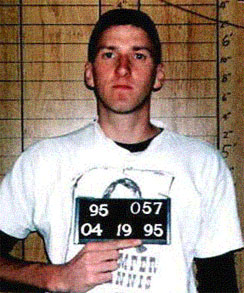 On April 19th 1995, a rented Ryder truck containing 5000 lbs. of ammonium nitrate fertilizer parked in front of the Alfred P. Murrah Federal Building in Oklahoma City.  At 9:02 a.m. the bomb detonated, ripping through the north side of the building killing 168 innocent people, including 19 small children as well as injuring an additional 700.  Approximately 324 other buildings within a 16-block radius sustained damaged, and it is estimated to have caused at least $652 million in total damages.
Ninety minutes after the attack, Timothy McVeigh was pulled over by the highway patrol and arrested on a firearms charge. Shortly thereafter, McVeigh was linked to the attack; a friend, Terry Nichols, assisted him.   Their motivation: revenge against the Federal Government for the Waco tragedy that occurred two years prior.  While all the deaths were tragic and senseless, it is hard to comprehend the intentional killing of children. In an attempt to justify his actions, McVeigh later stated, "I didn't define the rules of engagement in this conflict. The rules, if not written down, are defined by the aggressor. It was brutal, no holds barred. Women and kids were killed at Waco and Ruby Ridge. You put back in [the government's] faces exactly what they're giving out." McVeigh was later convicted of murder and conspiracy and was put to death on June 11, 2001. Nichols was found guilty for his role in the bombing and sentenced to life in prison without the possibility of parole.
Prior to the arrests of McVeigh and Nichols, the FBI had three theories as to who could have carried out the attack.  And while international terrorism was one of them, not once was it thought to be the responsibility of homegrown terrorists. Up until the September 11th attacks, the Oklahoma City bombing was considered to be the deadliest act of terrorism on American soil in U.S. history.
While the mental, emotional, and physical effects of such an event can last a lifetime, immediate pieces of legislation were enacted in order to prevent any similar attacks.  Two of the most notable were the Antiterrorism and Effective Death Penalty Act of 1996, and the Victim Allocution Clarification Act of 1997. Smaller, but just as effective changes could also be seen in building codes, security measures, engineering improvements, and something even as simple as creating a new type of fertilizer that will not detonate when mixed with fuel oil.
While nothing can erase the tragedy and resulting loss of lives on April 19th, 1995, we can pause and reflect upon those 168 innocent people who lost their lives 16 years ago today, as well as their families, friends and associates, many of whom still grieve today.
We follow in tradition and take 168 seconds of silence to honor them.
Read about the trial of Anders Behring Breivik, the man who killed 77 people in Norway in 2011