By Virginia Farrell
In one month it will be the ten year anniversary of the D.C. Sniper shootings.
John Allen Muhammad, the primary organizer behind the Beltway sniper attack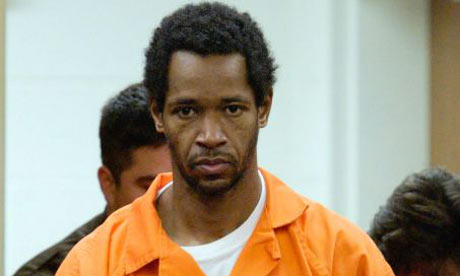 For three weeks in October, 2002, John Allen Muhammad and his teenage accomplice, Lee Boyd Malvo, terrorized the Washington Metropolitan community. The pair used a Bushmaster XM-15 semiautomatic .223 caliber rifle to take shots through the trunk of their car, which had a small hole drilled in it. Altogether, the pair killed eleven people and wounded six in both the D.C. area spree and their previous shooting spree in Louisiana and Alabama.
The Washington Area shootings started on October 2, 2002, when the snipers fired a shot into a Michaels Craft store in Aspen Hill, Maryland. Thankfully no one was hit, but only an hour later the snipers struck again, shooting and killing 55-year-old James Martin outside of a grocery store in Wheaton, MD. The reign of terror had begun. Five more people of varying ages were shot and killed the following day. Over the next two weeks, four more people were shot and killed, and several more were wounded.The Washington Metropolitan area was in a state of terror, as people were afraid to fill up their cars and pick their children up from school. Several districts canceled school altogether.
A drawing made by Muhammad while in jail
On October 24, police found Muhammad and Malvo sleeping in their car and arrested them on federal weapons charges. They were later able to link the gun to eleven of the fourteen shootings. The consequent trial attempted to understand the motive of the random shootings. Before the trial, the prosecutors had theorized that Muhammad's intended target was in fact his ex-wife Mildred, who had estranged him from his children. They believed that he had tried to use the other shootings to cover up her intended murder, making it look like the work of a serial killer instead and throwing the blame from him. During the course of the trial, testimony from Muhammad about Jihad suggested terrorist leanings, but his nonsensical rants proved any terrorist connections to be immaterial. When he took the stand against Muhammad, Malvo confessed that their plan had been to extort money from the government and "set up a camp to train children how to terrorize cities" and "shut things down" all across America. As an act of terror against the state, Muhammad's actions merited the death penalty, and he was executed by lethal injection in 2009. Malvo is currently serving out six life-sentences without the possibility of parole.
For more on Washington Area crimes, visit our D.C. Cases page!