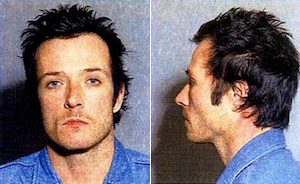 Scott Weiland, the ex-lead singer of Stone Temple Pilots, was arrested his fair share of times. Weiland was infamous for his issues.
In November 2001, he was arrested by police for domestic abuse against his wife during a trip to Las Vegas. He pled guilty in December and ended up on probation and a fine.
In 2003, he was again found by police. This time, it was in investigation of a drug possession charge. He was driving around with his headlights off at night and was found with strange substances in his car.
In 2008, he realized the hopelessness of his situation and decided to turn himself into police. The reason? He had been convicted of a DUI. He was supposed to spend eight days in jail, but only ended up serving a few before being released to a probation of four years, a year-and-a-half long program intended to educate him on alcohol and driving, and a hefty fine.
Weiland played off and on with Stone Temple Pilots from 1989 to 2013. In 2012, he formed the band Scott Weiland and the Wildabouts, that received mixed reviews. By this time fans began to notice Weiland's visible health problems and by December 2015, while on tour, Weiland died from an accidental drug overdose, he was only 48 years old.
Back to Crime Library
---