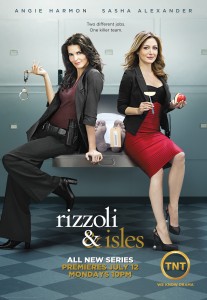 Rizzoli & Isles is a crime drama that airs on the TNT Network and stars Angie Harmon as a police detective Jane Rizzoli and Sasha Alexander as medical examiner Dr. Maura Isles. Based on the bestselling novels written by Tess Gerritsen, the show was developed by Janet Tamaro and has been airing since 2010.
Other stars of the series include Lorraine Bracco as Angela Rizzoli, Jane's mother, with whom she has a strained relationship, Bruce McGill as Detective Vince Korsak, Jordan Bridges as Jane's brother, and Lee Thompson Young as Detective Barry Frost, who has since passed away.
The show's two primary characters, Rizzoli and Isles, are good friends who work extremely well together to solve crimes for the Boston Police Department despite their seemingly polar opposite personalities. Rizzoli is a tough, tomboy-ish, confident and independent detective–although she is still haunted by her near-death encounter with serial killer Charles "The Surgeon" Hoyt, whom she helped put behind bars. Meanwhile, Maura Isles, who is a forensic expert and works as Chief Medical Examiner, a job that highlights both her incredible intelligence and also her social awkwardness.
Rizzoli & Isles concluded with the seventh season and the final episode aired on September 5, 2016.
To visit the show's website, click here.
To learn more about author Tess Gerritsen, visit her website here.
Back to Crime Library
---