Southland wa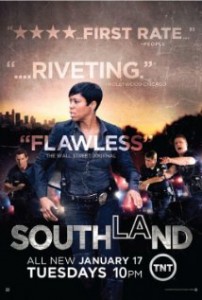 s a crime drama that aired on NBC and TNT from 2009 to 2013. Southland was a fresher look at the reality of being a police officer in the LAPD. The show was created by Ann Biderman. Its fifth and final season aired in 2013.
Although the show was originally pitched as an ensemble show, when NBC cancelled it after the first season, it shifted. TNT agreed to pick it back up, but during this shift, the show shifted and narrowed its focus onto only a few characters. TNT ran the show for its last four seasons.
Southland starred Michael Cudlitz as Officer John Cooper, Shawn Hatosy as Detective Sammy Bryant, Regina King as Detective Lydia Adams, and Ben McKenzie as Officer Ben Sherman. The show won 14 awards and received 25 other nominations, including Best Supporting Actor in a Drama Series for Michael Kudlitz, a Critics' Choice TV Award. The series was hailed as being a very realistic portrayal of criminal and police goings-on in Los Angeles, and was filmed on-site in Los Angeles.
Merchandise:
Season 1
Seasons 2-4, Box Set
Season 5
Back to Crime Library
---