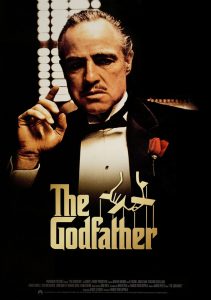 The Godfather is a crime drama that was released in 1972, based on the book of the same name. The Godfather film was written by Mario Puzo (the book's author) and Francis Ford Coppola, who also directed the movie. The movie, set in New York in the 1940s, focuses on Marlon Brando as Vito Corleone and Al Pacino as Michael Corleone. Vito is the leader of a Mafia family; Michael is a war hero just returning from the Marines. Michael shows up at his sister's wedding with his girlfriend Kay (Diane Keaton), who learns about his family's business.
Michael falls into the trap of the family business when he saves his father from an attempt on his life, and decides to take revenge. After murdering those responsible, he runs away to Sicily, falls in love, and gets married. His new wife is killed, as is one of Michael's brothers. Michael becomes the new don of his Mafia family, and tries to kill all who opposed the Corleones.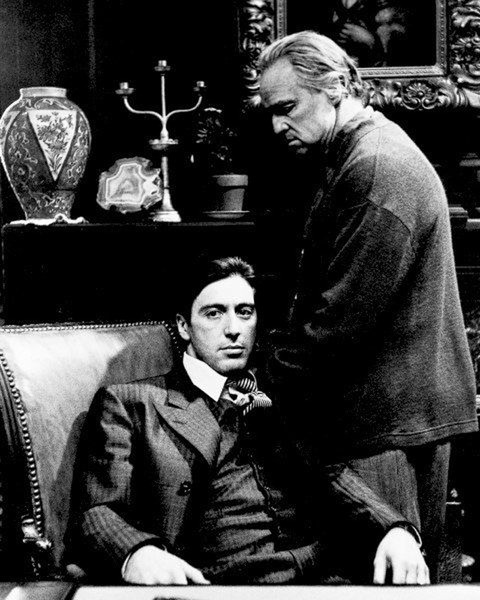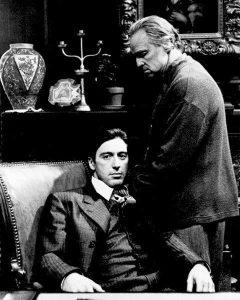 The Godfather is an extremely famous picture that won 32 awards and had 19 other nominations. Among the award nominations was 10 Oscars, originally 11, but the Best Original Dramatic Score was revoked due to it being similar to a previous score the composer used in another film. At the 1973 Oscars, The Godfather won Best Picture, Best Actor in a Leading Role (Marlon Brando), and Best Adapted Screenplay Based on Material from Another Medium. It was also nominated for Best Actor in a Supporting Role (James Caan, Robert Duvall, and Al Pacino were all nominated separately), Best Director, Best Costume Design, Best Sound, Best Film Editing, and Best Music, Original Dramatic Score.
Merchandise:
The Godfather – 1972 Movie
The Godfather – Book
The Godfather – T-Shirt
Back to Crime Library
---