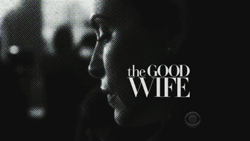 The Good Wife is a legal drama that airs on CBS. The series was created by Robert and Michelle King, and stars Julianna Margulies, Josh Charles, Christine Baranski, Archie Panjabi, Matt Czuchry, Chris Noth, and Alan Cumming.
The premise of the show focuses on the life of protagonist Alicia Florrick, whose husband Peter was arrested and jailed after a sex and corruption scandal was brought to light. Following this scandal, Alicia must return to the workforce and build her life again from the ground up in order to provide for her children, Grace and Zach. Florrick goes back to her old job as a junior litigator at the Stern, Lockhart & Gardner law firm after spending the past thirteen years as a stay-at-home mom.
The series is claimed to have been partly inspired by various political scandals that have occurred in recent years, including the Eliot Spitzer prostitution scandal and the Bill Clinton affair.
The Good Wife is a heavily serialized program, a note-worthy characteristic as CBS is known for airing television shows that are highly episodic. However, despite the seriality of the program, The Good Wife also contains several smaller plotlines within its larger arcs. These plotlines are usually resolved within an episode and resemble traditional plotlines found in procedural programs.
The Good Wife has received a great deal of critical acclaim as well as numerous awards, including a Primetime Emmy Award, Golden Globe Award, Critics' Choice Television Award, TCA Award for Individual Achievement in Drama, and Screen Actors Guild Award.
The Good Wife concluded with the seventh season, with the final episode airing on May 8, 2016.
Back to Crime Library
---