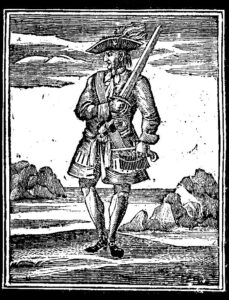 John Rackham, also known as "Calico Jack," was an English pirate famous for two reasons: his design of the famous Jolly Roger flag (a skull with two crossed swords), and for having two female pirates, Mary Read and Anne Bonny, in his crew. Calico Jack was a notorious pirate who terrorized the waters around the Bahamas and Cuba. While at first Rackham was merely a quartermaster for Charles Vane's sloop, The Ranger, he reached captaincy by branding Vane a coward.
As captain, Rackham plundered many small ships close to shore around the Caribbean. In December of 1719, he made a much bigger capture, The Kingston, a large ship with a very bountiful cargo. While this robbery was a huge success for Rackham and his crew, it was short-lived, as merchants had seen the robbery and sent bounty hunters to capture Rackham. While on shore on Isla de los Pinos, the bounty hunters caught up to Rackham; they did not manage to find him, but they took his prize with them.
Rackham later sailed to Nassau, where he received a pardon from Governor Rogers by claiming that Vane had forced him into piracy. Rogers accepted and allowed John to receive the pardon and remain in Nassau.
During the short time Rackham maintained his pardon, he began an affair with Anne Bonny, the wife of James Bonny, a sailor working for Governor Rogers. Upon discovering the affair, James Bonny attempted to have Anne convicted of adultery. However, she escaped with Rackham, stealing a sloop and nullifying his pardon.
For two months they sailed the Caribbean, capturing ships until they sailed to Cuba for Anne to deliver Rackham's baby. While in Cuba, Anne would meet Mary Read, the second woman to join Rackham's fleet.
Soon after, Governor Rogers declared John Rackham and his crew pirates, after which the pirate hunter Jonathan Barnet began his search for them.
In October of 1720, at Bry Harbour Bay in Jamaica, Barnet's sloop attacked Rackham and captured him. He was then sent to Spanish Town, Jamaica, where he was tried, convicted, and sentenced to hang.
Back to Crime Library
---