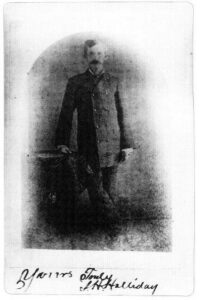 Doc Holliday was born to Alice and Major Henry Holliday on August 14, 1851. He grew up with his two parents and an adopted orphaned Mexican boy named Francisco Hidalgo. The family moved to Georgia, where John studied languages. His mother died when he was fifteen, and his father remarried three months later.
Searching for acceptance in the community, John followed in the footsteps of his well-received cousin Robert Holliday, who founded the Pennsylvania College of Dental Surgery, and sought his DDS.
Doc soon discovered that he had contracted consumption – also known as tuberculosis – from his mother before she died; doctors advised him that he could extend his lifespan somewhat in a drier climate, so he headed to Dallas. After the disease rendered Doc unable to work, he had to find a new means of earning his keep.
He began gambling, but realized that this profession was unstable, so made sure he had protection for himself: a six-shooter and a knife.
On January 2, 1875, Doc got into a fight with a saloonkeeper. In 1876, Doc got in another fight and killed a soldier. This was swiftly followed by an investigation. Doc, knowing his fate would be horrible should he be caught, fled.
Later, he would return, only to meet "Big Nose" Kate, a prostitute, and Wyatt Earp, US Deputy Marshal in acting commission. Wyatt, chasing a felon named Rudabaugh, came to Holliday for information. He and Wyatt would become friends.
Holliday became involved with only eight shootouts in his life, despite his reputation. The most famous of these was the Gunfight at the OK Corral in 1881.
Doc Holliday met his eventual fate, somehow managing to cheat death until then, and died peacefully from consumption in 1887.
Back to Crime Library
---