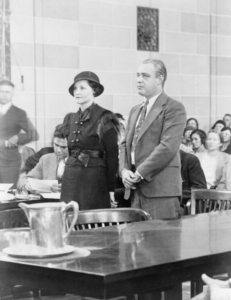 In September of 1930, "Machine Gun" Kelly and Kathryn Throne tied the knot. It was the start of a career that would span just three years. But Kathryn was a criminal in her own right before she ever laid eyes on Kelly. She was born Cleo Mae Brooks in 1904. By eight-grade she was going by Kathryn to sound more elegant. At 15 she married for the first time. After giving birth to her daughter, she divorced and quickly remarried. Her second marriage didn't last long, and she soon moved in with her mother and new step-father on his farm near Fort Worth, Texas.
She married for a third time to Charlie Thorne a bootlegger in the area. They sometimes quarreled, and after one alteration, Charlie was found shot to death with a suicide note. The judge overlooked the fact that Charlie was illiterate and looked the other way. Soon after Kathryn was arrested for robbery under an assumed name, but let off on a technicality.
She continued to live in Fort Worth and her husband's money, and the stolen cash, allowed her to thoroughly enjoy the Roaring Twenties and all Prohibition had to offer. Her vivaciousness and striking good looks caught the eye of George Kelly. They soon became the leading bootleggers in the city. However, Kelly was also a convicted bank robber, and in April 1931 he helped rob the Central State Bank of Sherman, Texas of $40,000. He continued robbing banks until 1932.
By then banks were beginning to run out of cash because of the Great Depression. Kelly soon turned to kidnapping. After his second failed attempt, Kathryn began talking him up to everyone she knew in Fort Worth. She bought him a machine gun and gave him his famous nickname. After the Barker-Karpis Gang got a ransom for $100,000, Kathryn and Machine Gun began plotting their next kidnapping. They kidnapped a local oil baron, and not be outdone, they demanded $200,000—the largest payout ever paid at that time. They hid the man at her mother's farm. When he was released, he used his photographic memory to lead the FBI right back to their door. By then the Kellys were long gone. The FBI arrested Kathryn's parents and their accomplices.
The Kellys were arrested 56 days later after a failed attempt to negotiate for the release of Kathryn's mother and herself. Kathryn received a life sentence, but was released 25 years alter with her mother when they appealed claiming the FBI had intimidated their lawyers. When the FBI refused to release documents proving otherwise, the women were released. Kathryn never saw Machine Gun again; he died in prison. Kathryn spent the rest of her life in relative anonymity in Oklahoma. She was one of the last "Molls" to go and died under the assumed name Lera Cleo Kelly in 1985.


Back to Crime Library
---