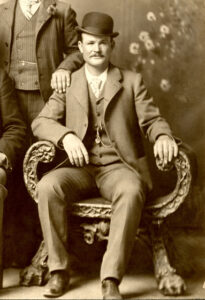 Robert Parker, a.k.a. "Butch Cassidy," is regarded as one of the most famous outlaws in American history. Born Robert Parker, he acquired the name "Butch" while working as a cowboy in the early 1890s. The surname "Cassidy" comes from an outlaw named Mike Cassidy who taught Parker how to rustle cattle and shoot guns. His charisma afforded him capable gang members who assisted in his master robberies starting in the late 1890s. The most famous member of Parker's gang was Harry Longabaugh, a.k.a. "The Sundance Kid." A very famous movie about the two was released in 1969 titled Butch Cassidy and the Sundance Kid.
The crew's first robbery was on August 13, 1896 were they made off with $7,165 from an Idaho bank. On April 21, 1897, the crew robbed a train and escaped with $8,800. While making their escape, the men cut all the telegraph lines to make sure that the police could not communicate about the crime. On June 2, 1899, the crew robbed a Wyoming train, escaping with $60,000. Just three weeks later, the gang robbed the San Miguel Valley Bank of $20,750.
On July 11, 1899, the gang made the biggest score they would ever make, robbing a New Mexico train of $70,000. They then robbed another Wyoming train of $55,000 on August 29, 1900. On September 9th of that year, the gang stole $32,640 and began plotting to flee to South America. On July 3, 1901, they made their last robbery in Montana for $65,000.
For the most part, the crew split up after the last robbery. Butch and Sundance, however, stayed together and fled to Argentina. It would be a few years before they began to rob again; they are suspected to have been killed by Bolivian soldiers, though some believe that the pair returned to America and assumed other aliases. No matter what you believe, almost everyone agrees that Butch Cassidy is one of the most notorious criminals in American history. With inflation considered, the current value of the money he and his crew stole is estimated at almost $10 million and his legacy lives on to this day.
Back to Crime Library
---