David Berkowitz, also known as Son of Sam and the .44 Caliber Killer, is an American serial killer who terrorized the New York City area from July 1976 to July 1977. Berkowitz killed six people and wounded seven, most using a .44 caliber Bulldog revolver gun.
Early Life
David Berkowitz was born Richard David Falco on June 1, 1953 in Brooklyn, New York. His unmarried parents separated shortly before he was born, and he was put up for adoption. His adoptive parents switched his first and middle names, and gave him their surname. From a young age, Berkowitz began to show early signs of his future violent behavior patterns. While he was of above-average intelligence, he lost interest in school and instead focused on more rebellious habits. Berkowitz got involved in petty larceny and pyromania. However, his misbehavior never led to legal troubles or impacted his school records. When he was 14, Berkowitz's adoptive mother died of breast cancer and his relationship with his adoptive father and new stepmother grew strained.
When he was 18, in 1971, Berkowitz entered the U.S. Army and served both in the U.S. as well as South Korea. He was honorably discharged three years later. Berkowitz then tracked down his birth mother, Betty Falco. His mother told him about his illegitimate birth and the recent death of his birth father, which greatly upset Berkowitz. He eventually lost contact with his birth mother and began working a number of blue-collar jobs.
Killing Spree
According to his own accounts, Berkowitz's killing career began on December 24, 1975, when he stabbed two women using a hunting knife. One of the women was Michelle Forman, and the other has never been identified.
In the early morning hours of July 29, 1976, 18-year old Donna Lauria and 19-year old Jody Valenti were sitting in Valenti's car when Berkowitz walked up to the car and shot at them. He fired three shots, and walked away. Lauria was killed instantly and Valenti survived. When Valenti was questioned by police, she stated that she did not recognize him, and gave a description, which fit with a statement by Lauria's father, who said that he saw the same man sitting in a yellow car. Testimony by other individuals in the neighborhood stated that the yellow car had been seen driving around the neighborhood that night. Police determined that the gun used was a .44 caliber Bulldog.
On October 23, 1976, Berkowitz struck again, this time in Flushing, a community in the borough of Queens. Carl Denaro and Rosemary Keenan were sitting in their car, parked, when the windows shattered. Keenan immediately started the car and drove off. It was not until they got help that they realized they had been shot at, even though Denaro had a bullet wound in his head. Both Denaro and Keenan survived the attack, and neither saw the shooter. Police determined that the bullets were .44 caliber, but could not determine what gun they came from. Investigators did not initially draw a connection between this shooting and the previous one, because they occurred in two separate New York boroughs.
Shortly after midnight on November 27, 1976, 16-year old Donna DeMasi and 18-year old Joanne Lomino were sitting on Lomino's porch in Bellerose, Queens. As they talked, a man approached them, dressed in military fatigues. He began to ask them for directions in a high-pitched voice before taking out a revolver and shooting at them. They both fell, injured, and the shooter ran away. Both girls survived their wounds, but Lomino was paralyzed. Police were able to determine that the bullets were from an unknown .44 caliber gun. They were also able to make composite sketches based on testimony from the girls and neighborhood witnesses.
On January 30, 1977, Christine Freund and John Diel were sitting in Diel's car in Queens when the car was shot at. Diel suffered minor injuries and Freund died of injuries at the hospital. Neither victim ever saw the shooter. After this shooting, police publicly connected this case with the previous shootings. They observed that all shootings involved a .44 caliber gun, and the shooter seemed to target young women with long, dark hair. When the composite sketches from the various attacks were released, NYPD officials noted that they were likely searching for multiple shooters.
On March 8, 1977, Columbia University student Virginia Voskerichian was shot walking home from class. She lived just one block away from fellow victim Christine Freund. She was shot several times, and eventually died of a gunshot wound to the head. In the minutes following the shooting, a neighbor who heard the shooting went outside and saw what he described as a short, husky, teenage boy sprinting from the crime scene. Other neighbors reported seeing the teenager as well as a man matching Berkowitz's description in the area of the shooting. The earliest media coverage implied that the teenager was the perpetrator. Eventually, police officials determined that the teenager was a witness and not a suspect.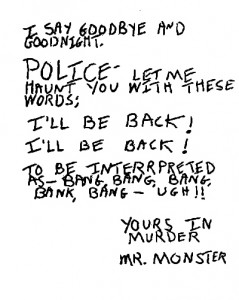 On April 17, 1977, Alexander Esau and Valentina Suriani were in the Bronx, several blocks away from the scene of the Valenti-Lauria shooting. The pair were each shot twice while sitting in a car, and both died before they could talk to police. Investigators determined that they were killed by the same suspect in the other shootings, with the same .44 caliber firearm. At the crime scene, police discovered a handwritten letter addressed to the captain of the NYPD. In this letter, Berkowitz referred to himself as the Son of Sam, and expressed his desire to continue his shooting sprees.
Manhunt
With the information from the first letter and the connections between the previous shootings, investigators began to create a psychological profile for the suspect. The suspect was described as neurotic, potentially suffering from paranoid schizophrenia, and believed that he was possessed by demons.
Police also tracked down every legal owner of a .44 caliber Bulldog revolver in New York City and questioned them, in addition to forensically testing the guns. They were unable to determine which was the murder weapon. Police also set up traps of undercover police officers posing as couples in parked cars in the hopes that the suspect would reveal himself.
On May 30, 1977, Jimmy Breslin, a columnist for the Daily News, received the second Son of Sam letter. It was postmarked for that same day from Englewood, New Jersey. The envelope had the words "Blood and Family – Darkness and Death – Absolute Depravity – .44" written on the reverse side. In the letter, the Son of Sam stated that he was a reader of Breslin's column, and referenced several of the past victims. He also continued to mock the New York City Police Department over its inability to solve the case. In the letter, he also asks "what will you have for July 29?". Investigators believed that this was a warning, as July 29 would be the anniversary of the first shooting. One notable observation was that this letter seemed to be written in a more sophisticated manner than the first one. This led investigators to believe that the letter could have been written by a copycat. The letter was published about a week later, and sent much of New York City into a panic. Many women opted to change their hairstyle, due to Berkowitz's pattern of attacking women with long, dark hair.
On June 26, 1977, the Son of Sam made another appearance, in Bayside, Queens. Sal Lupo and Judy Placido were sitting in their car in the early morning hours when they were shot with three gunshots. They both suffered minor injuries, and survived, though neither saw their attacker. However, witnesses reported seeing a tall, stocky man with dark hair fleeing the crime scene, as well as a blond man with a mustache driving in the area. Police believed that the dark man was their suspect, and the blond man was a witness.
On July 31, 1977, just two days after the anniversary of the first shooting, Berkowitz shot again, this time in Brooklyn. Stacy Moskowitz and Robert Violante were in Violante's car, parked near a park when a man walked up to the passenger side and began shooting. Moskowitz died at the hospital, and Violante suffered non-life threatening injuries. Unlike most of the other female victims, Moskowitz did not have long or dark hair. There were several witnesses to this shooting who were able to provide descriptions of the shooter to police. One of the witnesses described that the man looked like he was wearing a wig, which could account for the varying descriptions of suspects with blond and dark hair. Several witnesses saw a man matching Berkowitz's description -wearing a wig- driving a yellow car, without any headlights and speeding away from the crime scene. Police decided to investigate the owners any yellow cars matching the description. David Berkowitz's car was one of those cars, but investigators initially pegged him as a witness rather than a suspect.
On August 10, 1977, police searched Berkowitz's car. Inside they found a rifle, a duffel bag filled with ammunition, maps of the crime scenes, and an unsent Son of Sam letter- addressed to Sergeant Dowd of the Omega task force. Police decided to wait for Berkowitz to leave his apartment, hopefully with enough time to obtain a warrant, as they had searched his car without one. The warrant never arrived, but police surrounded Berkowitz when he left his apartment, holding a .44 Bulldog in a paper bag. When Berkowitz was arrested, he allegedly told police "Well, you got me. How come it took you such a long time?"
When police searched Berkowitz's apartment, they found Satanic graffiti drawn on the walls, and diaries detailing his alleged 1,400 arsons in the New York area. When Berkowitz was taken in for questioning, he quickly confessed to the shootings and stated that he would plead guilty. When police asked what his motivation for the killing spree was, he said that his former neighbor, Sam Carr, had a dog that was possessed by a demon, which told Berkowitz to kill. Sam Carr is the same Sam that inspired his nickname, the Son of Sam.
Berkowitz was sentenced to 25 years in prison for each murder, served in New York's supermax prison, Attica Correctional Facility. In February 1979, Berkowitz held a press conference and stated that his claims about demonic possession were a hoax. Berkowitz stated to a court-appointed psychiatrist that he was lashing out in anger against a world that he felt had rejected him. He felt that he had been particularly rejected by women, which could be one of the reasons that he specifically targeted attractive young women. In 1990, Berkowitz was moved to Sullivan Correctional Facility, where he remains today.
For more information, please visit:
The David Berkowitz Biography
Back to Crime Library
---