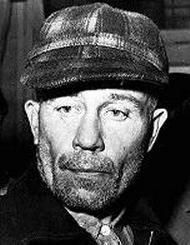 Ever wonder where influences of horror-films such as Psycho, and The Texas Chainsaw Massacre, came from? They were inspired from the infamous case of Edward "Ed" Theodore Gein. Ed was responsible for multiple crimes, including the deaths of Mary Hogan in 1954, and Bernice Worden in 1957. It was during the disappearance of Bernice that local law enforcement suspected Gein. In search for Worden, they entered Ed Gein's home and what they found was an absolute horror. Not only did they find the body of Bernice Worden, but they also found skulls and body parts of other victims throughout the home. He exhumed as many as 40 corpses from the local grave sites of Plainfield, Wisconsin. He kept bones, body parts, and skin as his prized possessions. Shaking the town for his crimes, he was soon to be known as "The Plainfield Ghoul."
Ed was arrested on November 16th, 1957, for shooting Worden with a .22 caliber rifle. The mutilations were performed after her death. During the interrogation, he also admitted to shooting Mary Hogan. Gein was charged for one count of first degree murder in Waushara Count Court. He pleaded not guilty for reasons of insanity. Due to this plea he was not taken to prison. He was unfit to stand trial and was sent to the Central State Hospital for the Criminally Insane. Later, he was transferred to the Mendota State Hospital in Madison, Wisconsin. After almost 10 years, Gein's doctors finally declared him sane enough for trial. Within the week, he was finally found guilty of first-degree murder. Since he was considered legally insane, he remained in the hospital.
On July 26th, 1984, Ed Gein was found dead due to respiratory and heart failure. Due to the popularity of the case, his grave was constantly vandalized and eventually stolen in 2000. In June of 2001, they recovered his gravestone near Seattle. Currently, it's in a museum near Waushara County, WI.
This infamous case soon made an impact in pop culture. Many film adaptations were created, such as Deranged (1974), and In the Light of the Moon (2000). The most recent adaptation was for the character of Bloody Face, in American Horror Story: Asylum (2011).
There are many unsolved mysteries within this case including the death of his brother and the amount of crimes actually committed. This case may be closed, but many questions still remain unanswered.
For more information, please visit:
Real Life Psycho Ed Gein Dies
The Ed Gein Biography
Back to Crime Library
---