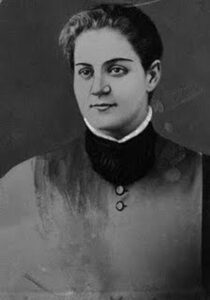 "Jolly" Jane Toppan
was a serial killer in Massachusetts in the late 1800s.
Toppan
claimed her life goal was to "have killed more people – helpless people – than any other man or woman who ever lived."
Jane was born to the name Nora and grew up in Boston's Female Asylum, where unwanted female children were often abandoned. Nora and her sister, Delia, were raised in the BFA with over a hundred other children. Nora was fostered as an indentured servant to widow, Ann Toppan, who changed Nora's name to Jane. Her sister, Delia, was not as lucky and was sent to the streets for prostitution when she was of age.
Jane was freed of her duties when she was eighteen and given $50. She chose to work for the family as a servant until Ann passed and Ann's daughter married and left home. Jane then attended Cambridge Hospital in Boston to train to be a nurse.
Toppan worked as a student nurse and got along well with her patients; she even falsified their medical records to keep them in the hospital for longer stays to get to know them. She had strong feelings toward elderly patients, feeling they were useless and not worth keeping alive. She killed at least a dozen people while working as a student nurse – she dosed her elderly patients with opium to see how they would react to the drug, upping the dose to watch them suffer and ultimately die. She began poisoning with other drugs, on occasion she would stage a sickness with poison and nurse them back to a "miraculous recovery."
She worked as a private nurse for families around Boston for years without detection; killing older family members and stealing their belongings. She even killed her landlords, fellow doctors and nurses, and friends as she got bored of their company. She wasn't caught until she used a metallic-based poison on a victim, which finally sparked an investigation.
In court in 1902, Toppan was found not guilty. She then told her attorney that she killed more than one hundred people and sometimes got into bed with her victims as they convulsed from the poison. She was immediately scheduled for another trial and sentenced to life in an asylum.
When she initially came to the asylum she refused to eat, afraid that her food may be poisoned – which the newspapers gloated as an ironic revenge. She stayed in the asylum until she died in 1938 at the age of eighty-one. There was a media resurgence of the story after her death, claiming her to be America's first serial killer.
There is a book about Jane Toppan and her murders, titled Fatal: The Poisonous Life of a Female Serial Killer by Harold Schechter.
Back to Crime Library
---