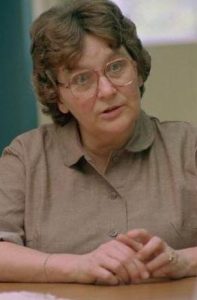 Velma Bullard, later Velma Barfield, was born on October 29, 1932 to a poor family in South Carolina. Her life of crime began early, when, after starting to attend school at age seven, she noted the financial differences between her and her classmates. She began stealing pocket money from her father to afford small luxuries while at school. This progressed to stealing $80 dollars from an old neighbor. Her father found out and beat her, and that was the last time during her childhood that she stole anything.
Despite his criticisms of her and her own criticisms of the way her family worked, Velma loved her father. He bought her nice things sometimes, right when she wanted them, and she adored him for it. Later, it was revealed that this relationship was probably not strictly father-daughter and had evolved into a sexual relationship.
She wed high school sweetheart Thomas Burke when she was 17, and they dropped out of school to live a nice home life. She gave birth to two children and loved them fiercely. She could be counted on to be extremely engaged with her children's classes.
Velma took another job at a textile plant. However, in 1964, she had a hysterectomy after medical problems. The hysterectomy made her to feel insecure in her womanhood and she began to feel lots of pain. When Thomas began to drink, she started to hate him.
She began taking Librium and Valium, going to multiple doctors for prescriptions.
One day, her house caught on fire. Only Thomas was home. Soon after, they moved back in with Velma's parents and she began dating Jennings Barfield.
Barfield died in 1971 of heart failure that had been an issue much of his later life.
Lillie, Velma's mother, died in a strange way, which, it would later be revealed, was arsenic. Velma had taken a liking to killing those in her care by poisoning them, then attempting to nurse them back to health. She took a job working to care for sick old people.
Her employer, Dollie, died of similar strange circumstances. Then, a man under her care died as well.
When boyfriend Stuart Taylor died in a similar way, an anonymous tipster, later revealed to be Velma's sister, notified police that Velma had killed a lot of people the same way she'd killed Stuart.
Velma was given a death sentence, and although psychiatric witnesses tried to stop Velma from being sentenced, she was convicted in the end – the first woman to be executed since 1962. She was put to death by lethal injection on November 2, 1984.
For more information, please visit:
NY Times Article – First Woman Executed in US Since 1962
---