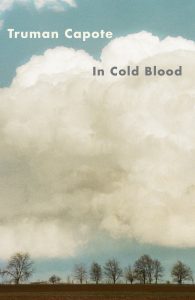 In Cold Blood is a non-fiction novel by Truman Capote. It recounts the story of the murder of Herbert Clutter and his family in Holcomb, Kansas on November 15, 1959. The crime seemed mysterious – there were few clues and no motives apparent. Capote read about the murder of the family of four in a newspaper and decided that the story was intriguing enough for him to want to investigate. He spent almost five years researching the murder and following the court process. Capote claims that the whole book is true, and though he wrote it based on experiences and interviews he made, he does not appear in it.
The perpetrators of this terrible crime are Dick Hickock and Perry Smith. However, the townspeople weren't aware of this, and when the Kansas Bureau of Investigation(KBI) gets involved, rumors spread through the town.
Meanwhile, a prison inmate hears about the crime and believes that he knows who's responsible – Dick Hickock. He makes the tough decision to talk to the police about the case, and gives them the information they need to crack the murder case open.
Trying to evade capture, Dick and Perry steal a car and head around the US until they are caught. They are condemned to death by hanging.
The book also spawned a movie in 1967, starring Robert Blake and Scott Wilson. The book is available for purchase here.
---