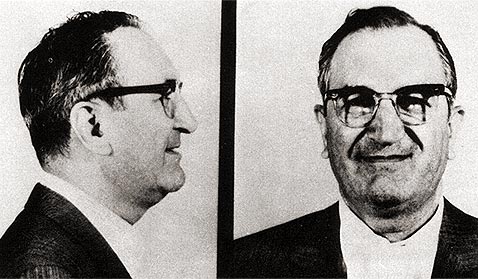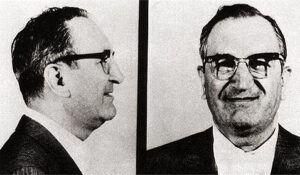 Joseph Bonanno (1905-2002) was the longtime head of one of the top five Italian Mafia crime syndicates or "families" in the United States. From 1931 to 1966, Bonanno reigned over the extremely powerful and corrupt Bonanno family as well as a criminal empire that stretched from Brooklyn to California.
The name "Lucky" Luciano is another major figure in the history of the Mafia. In 1931, he, along with mob boss Vito Genovese, inadvertently gave Bonanno his opening by ordering the execution of the crime boss Bonanno worked for, Salvatore Maranzano. Bonanno took over the Maranzano crime syndicate, which was thereafter referred to as the Bonanno family. This artwork also names Stefano Magaddino, who was Bonanno's cousin. Bonanno and Magaddino became estranged in the mid-1960s when Bonanno tried to build further upon his position as one of the five most powerful bosses. He arranged the assassination of two of the other top bosses, Thomas Lucchese of the Lucchese family, and Carlo Gambino of the Gambino Family (the remaining mob families were the Colombos and Genoveses).
Incredibly, it was not until 1980, at the advanced age of 75, that Joe Bonanno was successfully convicted of any serious crimes. The police subsequently jailed him on the charges of obstruction of justice and civil contempt of court.
In 1991, Bonanno alluded to his position in the Commission – the government body of the American Mafia, through a work of calligraphy he created using colored inks and paper. In this artistic artifact, Bonanno describes himself as wanting to be a "good father" who "would do things right, according to the old Tradition, as much as possible." These revealing words echo statements he made earlier in his autobiography A Man of Honor (1983), in which he wrote, "[a]s the father of a family I was like the head of state…I had to conduct foreign affairs with [the] other families." In the same book he also distinguished himself as being among the "men of the old Tradition," who had formed and who controlled "a sort of shadow government which existed alongside the official government." Many known mafia leaders voiced their opposition to the book and that Bonanno had violated their code of honor. Bonanno defended the book as an expression of his lifestyle and traditions that was above the code of silence.
Bonanno died a natural death in 2002, at the age of 97, with his friends and family at his side. The Bonanno syndicate is still in existence.
Back to Crime Library