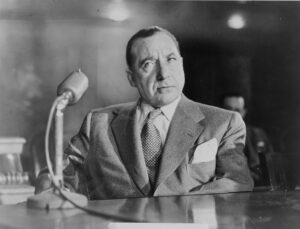 Francesco Castiglia was born on January 26, 1891 in Consenza, Italy. His family moved to East Harlem, New York when he was 4 years old. Francesco eventually became the leader of the 104th Street gang, which was an Italian gang based in Harlem. He began running small operations like burglary, assault, and robberies and soon began to make a name for himself as a criminal.
In 1916 he legally changed his name to Frank Costello. Costello was arrested multiple times from 1908 to 1917. Upon his release in 1917 he fell in love with his childhood friend Lauretta Giegerman and got married in 1918. Soon after his marriage he began working for Ciro Terranova, who was a very powerful East Harlem capo for the Morello crime family.
While working for the Morello gang Costello met Lucky Luciano and immediately became good friends with him. They became partners along with Meyer Lansky, Bugsy Siegel, Vito Genovese, and Gaetano Lucchese. This alliance would become the starting point for the national crime syndicate that began in New York. The group began to get involved with robbery, extortion, theft, gambling, and narcotics but later, during Prohibition era, turned their focus to bootlegging. Their bootlegging in the 1920's was financed by Arnold Rothstein.
Frank Costello soon helped the crime syndicate by befriending many politicians in Tammany Hall. These relationships helped the syndicate buy favors from judges, cops, politicians, district attorneys, and city officials. This control over the local government soon began a power struggle between two members of the syndicate. The Masseria family and the Maranzano family soon went to war and the syndicate was divided. In order to end the war and continue with their business, Costello, Lansky, Luciano, and Siegel decided to kill the heads of both families.
Lucky Luciano was convicted of running a prostitution ring and was sentenced to at least 30 years in prison, so he turned over his power to Vito Genovese in 1936. In 1937 Vito Genovese was charged with murder and had to flee to Naples, Italy so Luciano named Costello as acting head of the Luciano family.
After Genovese returned to the US and was acquitted of all charges he assumed he would take over his previous role as the leader of the Luciano family. When Costello refused to back down the two began a long process of violence and hatred.
When all mafiosos were called to appear in front of the grand jury during the Kefauver hearings, most pled the 5th Amendment but Costello did not. Costello argued that he had paid his taxes and that he was running a legit operation. He left the hearings but was arrested and charged with contempt of Senate charges in 1952. He served 18 months and was then found guilty of tax evasion in 1954 and was sentenced to five years in prison.
After serving three years Costello was released from prison on appeal. Quickly, Vito Genovese made his move against Costello. Genovese hired gunman Vincent Gigante to shoot Costello in the head. Miraculously Costello lived and eventually made peace with Genovese. Genovese allowed Costello to continue to run his illegal gambling operations in Louisiana and Florida as a peace treaty between the two. Costello soon retired but stayed involved in the New York mafia. He quickly earned the name "The Prime Minister of the Underworld." In 1973, at the age of 82, Frank Costello died of a heart attack in a Manhattan Hospital.
Back to Crime Library
---