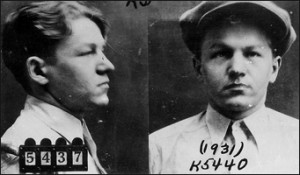 Baby Face Nelson was born on December 6, 1908. First known as Lester Gillis, he was in a youth gang. By 14, he had progressed to more impressive crimes, like car theft, and earned his nickname, "Baby Face," because of how young he looked.
In 1928, Nelson met Helen Wawzynak, and the two married. He went to prison in 1931 for a bank robbery in Chicago, but escaped in 1932 and ran to California. There, he met John Chase. Soon after, in 1934, he met John Dillinger, and helped him commit even more robberies, taking lives in the process. When Dillinger was killed in 1934, Nelson became the new Public Enemy No. One.
Running away from the FBI was a difficult task for Nelson, but he tried his best. Finally, in Illinois, some agents saw him, and they engaged in a shootout. Nelson had been with his wife and John Chase at the time; both got away without injury.
Although Nelson killed one of the FBI agents, by the end of the shootout, Nelson was wounded severely. In 1934, on November 28, Nelson died in a hospital from wounds resulting from that very same fight.