Aileen Wuornos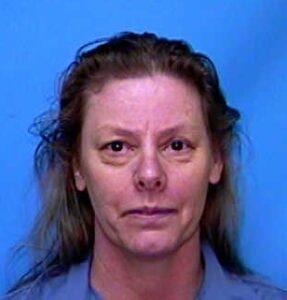 Aileen Carol Wuornos
(1956-2002) was a serial killer who preyed on truck drivers in Florida.
Wuornos' father, Leo Pittman, was a sociopathic child murderer spent time in mental hospitals throughout her childhood and was ultimately killed in prison. When she was four, her and her brother were sent to live with their grandparents. In her teens, she stayed in a home for unwed mothers, dropped out of school, and became a prostitute. She was arrested many times for armed robbery, check forgery, and auto theft.
Wuornos was named "America's First Female Serial Killer" by 1991. She lived on the streets and motels, killing men who picked her up on the side of the highway. She claimed that the murders were done in self-defense, that the men tried to sexually assault her. Between 1989-1990, she murdered at least seven men.
By 1992, she received six death sentences and was executed via lethal injection in 2002. Her final words were: "I'd just like to say I'm sailing with the rock, and I'll be back like Independence Day, with Jesus June 6. Like the movie, big mother ship and all, I'll be back."
Wuornos sold the rights to her story almost immediately after her arrest which captivated the media. Many documentaries were made of her life, and the popular film Monster (2003).
Back to Crime Library
---