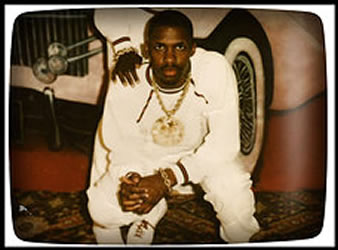 Profiles in Crime: Rayful Edmond
Rayful Edmond: The profile of a Kingpin. Called the John Gotti of Washington, D.C., notorious gangster Rayful Edmond terrorized and awed the Washington metropolitan area in the mid to late 1980's with his tight control of the crack cocaine trade and accompanying lavish spending sprees. Known for dropping several thousand dollars a night at clubs, Edmond supposedly spent over $400,000 at a single store in the Georgetown neighborhood, whose owner was, coincidentally, convicted of money laundering soon after. Partially thanks to Edmond's reign as drug lord, Washington, D.C. became known as the "murder capitol" during this period, as civilians grew too afraid to move about the city.
A young Rayful Edmond, draped in expensive jewelry
An entrepreneurial prodigy, Edmond controlled most of the drug trade within the city by his early twenties, importing millions of dollars in Columbian cocaine every week. His arrest at the age of 24 in 1989 and his subsequent trial created a media circus to rival Casey Anthony's. Jurors were kept anonymous before, during, and after the trial, and the jury box was kept behind bulletproof glass. Edmond was transported to the court everyday from the Quantico maximum-security facility (also the location of the FBI Training Academy) via helicopter. Although these measures may seem extreme, authorities fears were far from unfound.
Edmond's gang was notoriously violent. In one year, Edmond's "employees" committed 30 murders. At his peak, Edmond moved 2,000 keys of cocaine a week, and brought in $70 million a month. Overall, the gang is believed to have committed over 400 murders over the course of their run, not including the attempted murder of a local pastor during an anti-drug march.
Edmond was sentenced to life in prison without parole. Several members of his family also received sentences, including his mother, several of his sisters, and some of his cousins. Being incarcerated did not stop Edmond at first, however, and, along with his new contacts in prison, Edmond conducted his drug business via phone privileges. He received another 30 years sentence after his misconduct was found out. Since his second conviction, Edmond has become a government informant, and is now a part of the Federal Witness Protection Program. His current location is confidential.
---